Contact Us
Kagura & Mitsumata Association office Mitsumata 34, Yuzawa-machi, Minami-Uonumagun, Niigata-ken 949-6211, Japan.
TEL +81 (0) 25-788-9006
FAX +81 (0) 25-788-9500


Route Plan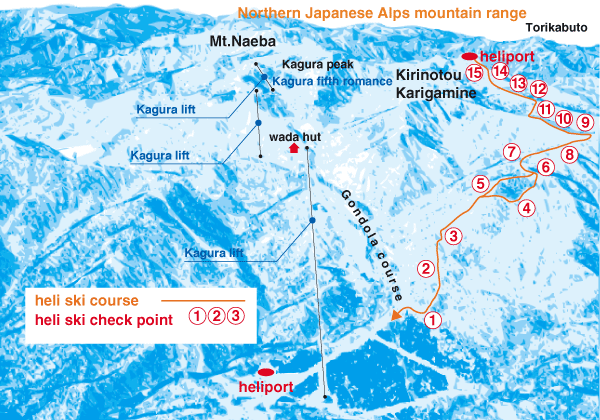 Departing from within Kagura resort, travel by helicopter to the 'Kiri-no-to' peak of Kagura-mine ["kagura-meenay"] mountain. This is where you simply have to sit back and take in the view. We guarantee that the view from the peak of Kagura-mine will be one of the most amazing you have ever seen. It is incredible to see the peaks of Naeba, Hakuba and Shiga-kogen - on a clear day it is even possible to view the sea of Japan! After taking in the incredible view, its time to ski or ride down to Nagamine-daira point, though the 'Gensei-rin' Beech forest, and down to Kagura resort. When arriving at the resort, you are free to continue skiing there the rest of the day.
Details for the next Heli-ski tour


Time:
12th, 13th & 14th April 2008.
Place:
Heli-ski tour reception is at the car-park of Kagura ski resort.
Reception is open 7am-10am each day.
Cost:
In advance : 16,000JPY
With accommodation : 21,500JPY
Session time:
40minutes Ski / Snowboard course distance




How to order


Please fill in the application form details, and fax to the Kagura Tourist Association.

It is possible to book the heli-ski tour on the day. However, please note that places are limited, and it is probable that the tour will be fully booked in advance.

Route Plan